No.11
・"Macaroni Hōrensō," the masterpiece manga left by a genius
・Ancient monster "Kingsaurs III" appeared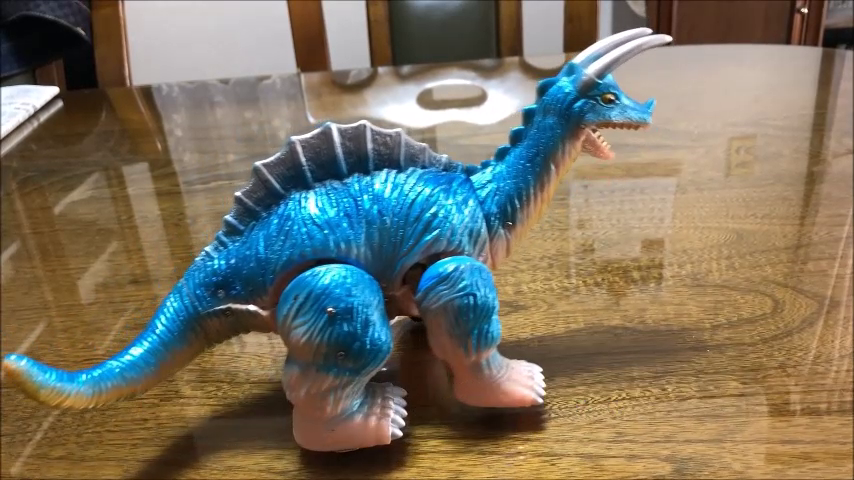 News from Kochi-power Research Institute (Part 11)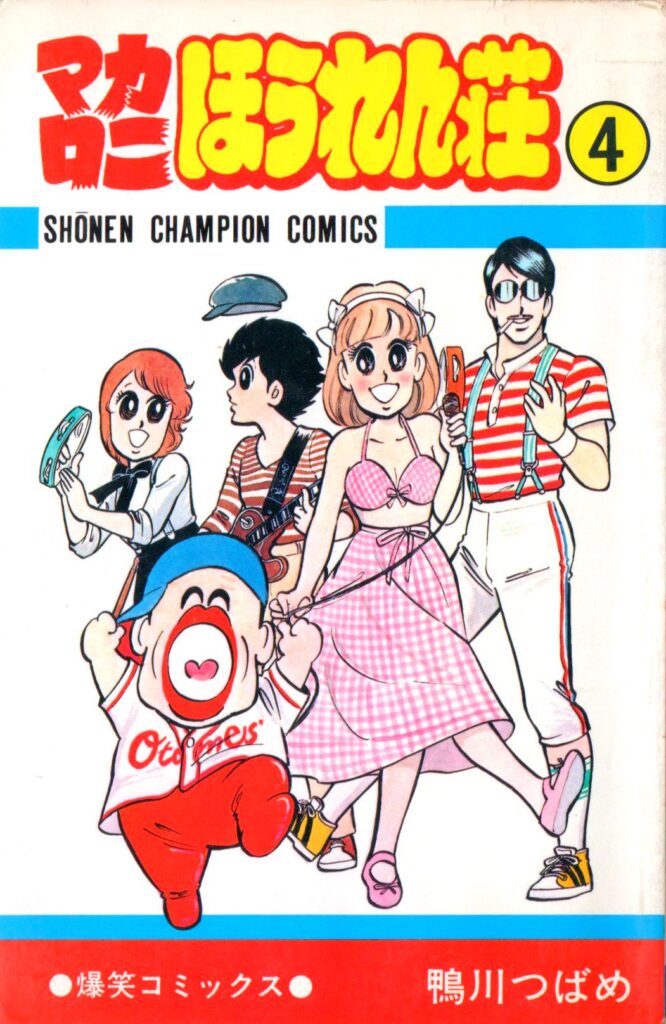 This time, I will introduce "Macaroni Hōrensō" serialized in "Weekly Shōnen Champion" (Akita Shoten) from 1977 to 1979.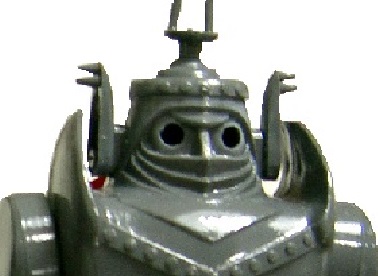 That is the work of Tsubame Kamogawa.

 Tsubame Kamogawa was such a great genius that even Tatsuhiko Yamagami, who became an invincible champion in the gag manga world due to "Gaki Deka," said, "I lost 6 rounds of knockout before Tsubame Kamogawa.1)." Given that he started serializing "Macaroni~" at the age of 20, there is no doubt that he had an extraordinary talent. In addition to the two major gag mangas by Tatsuhiko Yamagami and Tsubame Kamogawa, the "Champion" that has many popular serials such as "Black Jack" (by Osamu Tezuka) and "Dokaben" (by Shinji Mizushima) was selling well at that time. However, "Macaroni~" burns out after only two and a half years of serialization.
※1)"30,000-characters long interview with Tatsuhiko Yamagami" in "Bungei separate volume, 50th Anniversary of Tatsuhiko Yamagami's manga artist life" (Kawade Shobo Shinsha).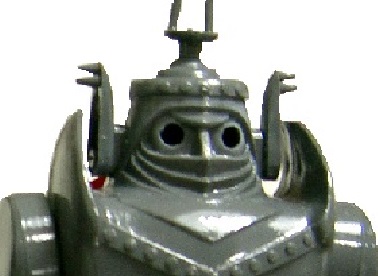 I hear that Mr. Kamogawa, as a result of continuing to draw manga of that density by himself without using assistants, became physically and mentally ill and stopped drawing manga.

 Various people have written the story in detail, so I will not touch on it here. I won't say anything today, just look at my favorite famous scenes of "Macaroni~" . Let's enjoy the unique world of gag manga where the sweet and sour scent of youth and the rock world coexist.
■The famous scenes of "Macaroni Hōrensō" that I chose at my own discretion
The following are excerpts from all 9 volumes of "Macaroni Hōrensō" ("Shōnen Champion Comics" published by Akita Shoten).

From Volume 1, page 143
This is the first "Gorilla Dance" of Kindō-san (real name: Nichiyō Kindō, 40 years old) in the book. This dance often begins abruptly regardless of the story.
---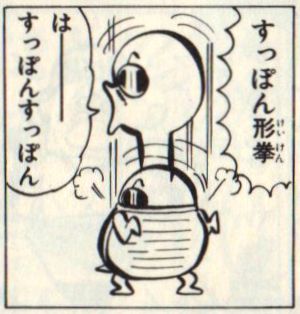 From Volume 2, page 16
Toshi (real name: Toshizō Hizakata, 25 years old)'s gag "Ha–Suppon Suppon" was very well received at our school at that time.
※Suppon means soft-shelled turtle.


---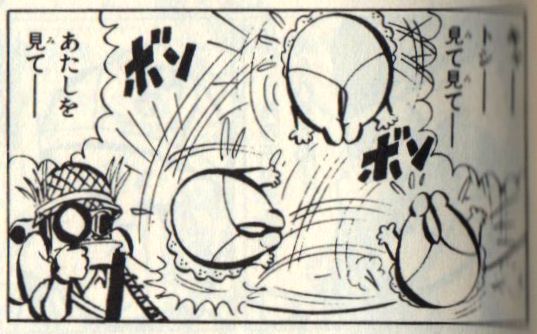 From Volume 2, page 55
A scene in which Kindō-san, who is jealous of Toshi staring at girls, jumps. Kindō-san is getting more and more ferocious, but at the beginning there were many such scenes.
---

From Volume 2, page 107
A flight scene of Kindō-san struck by a bat by Sōji (real name: Sōji Okita, 16 years old). After this, Kindō-san was secured and stabbed in the ass by Toshi.
---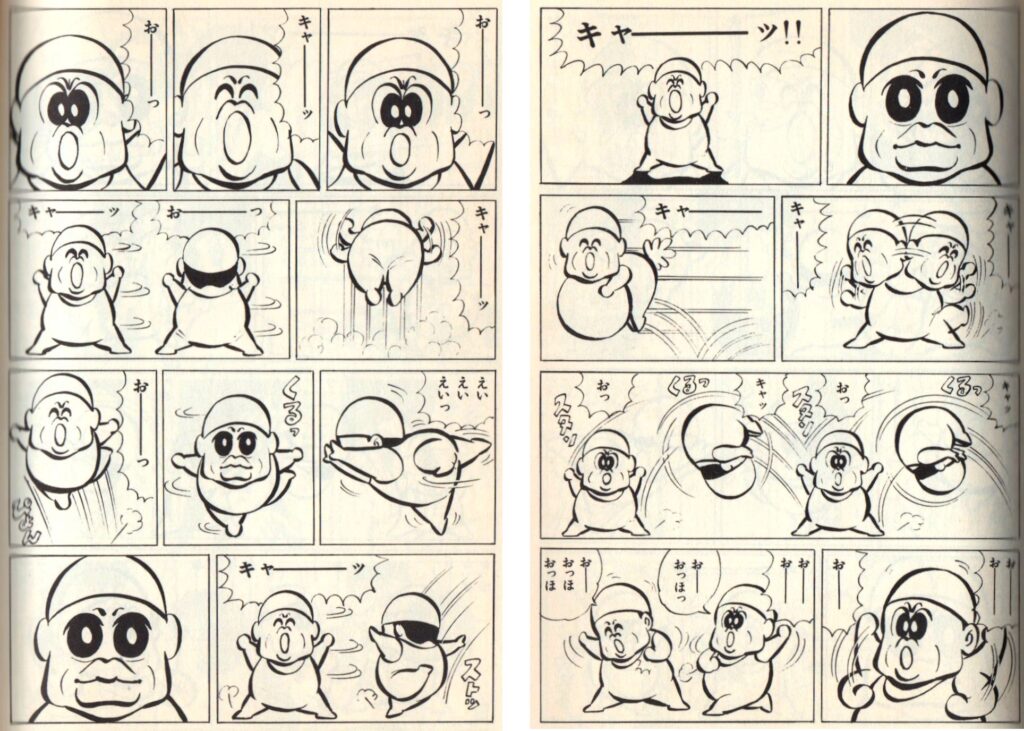 From Volume 2, pages 143 and 144
Kindō-san's calisthenics. Of the 17 pages, "Macaroni~" spends two pages on such a nonsense scene.




---

From Volume 2, page 160
Kindō-san and Toshi appear in order to surprise Kaori Himeno and Sōji. A fierce battle is unfolded throughout the night.
---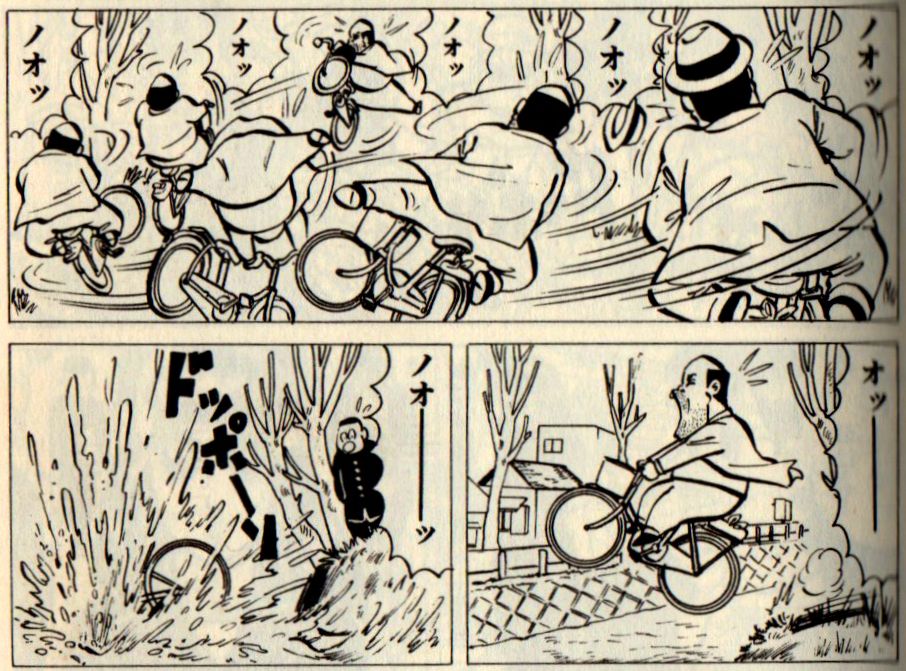 From Volume 3, page 67
The two surprised Teacher Kuma (real name: Kumao Gotō), so he fell into the river with his bicycle. This sense of rhythm is good.





---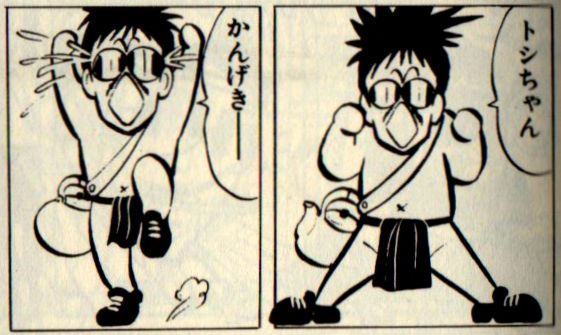 From Volume 3, page 73
"Toshi-chan, impressing." is also Toshi's gag. It's used in various situations.



---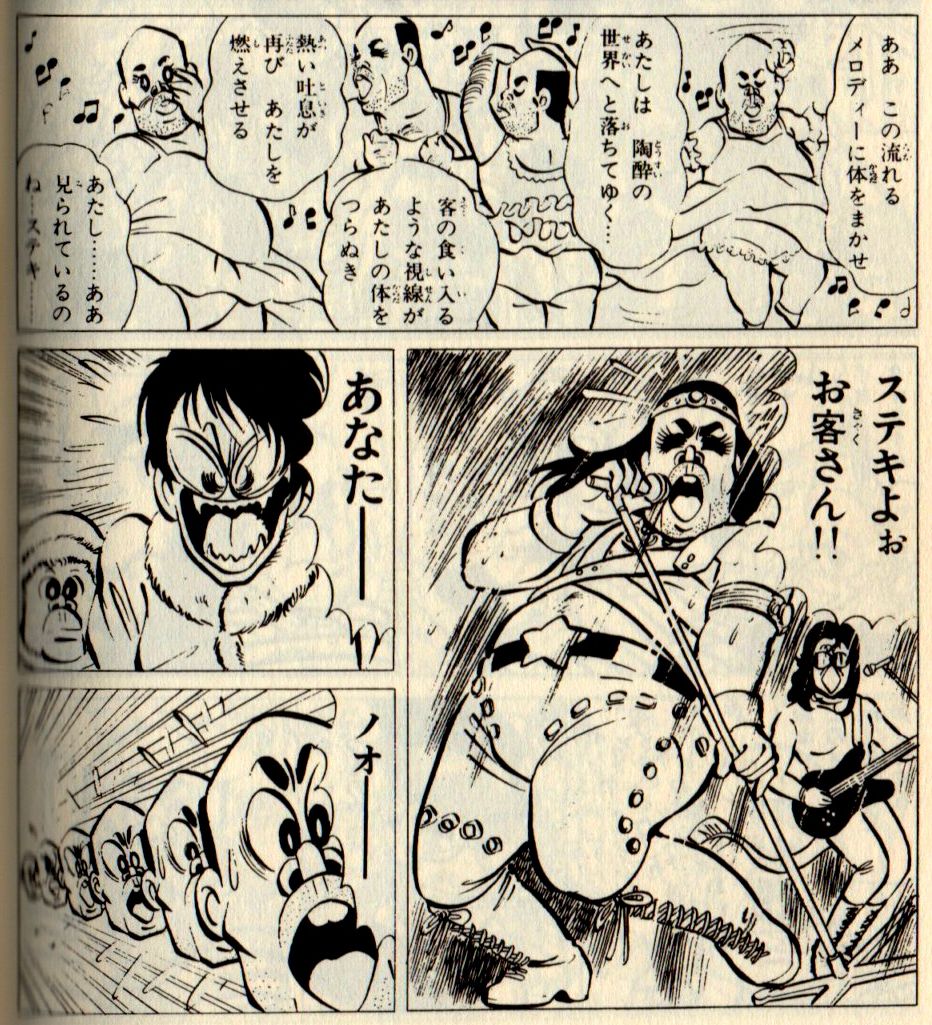 From Volume 3, page 136
Teacher Kuma who was tempted by the two to start a rock performance during class. The onstage continues endlessly until Teacher Ayako stops.









---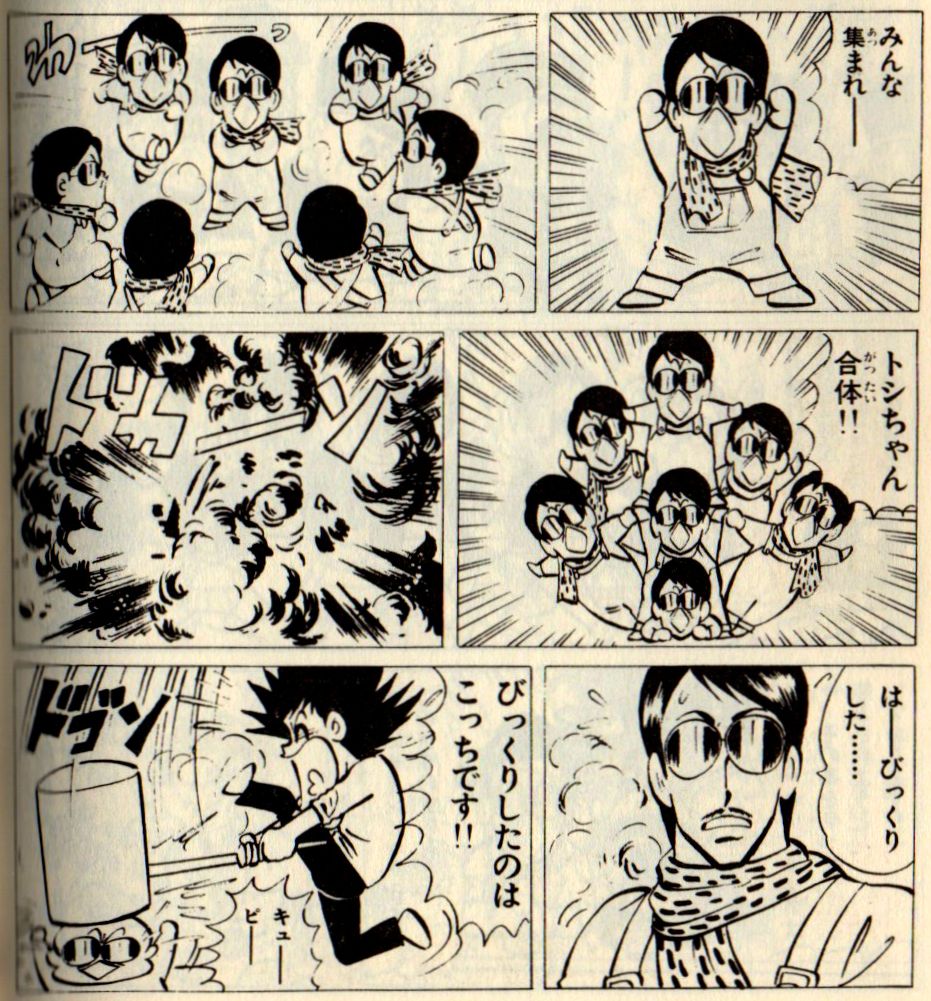 From Volume 3, page 164
When hit with a hammer, Toshi splits into seven dwarfs. Of these, there was a story that No. 5 went missing (Volume 5).










---

From Volume 4, page 27
Toshi acts silly in front of Kindō-san and makes him angry. This pattern is repeated many times.

---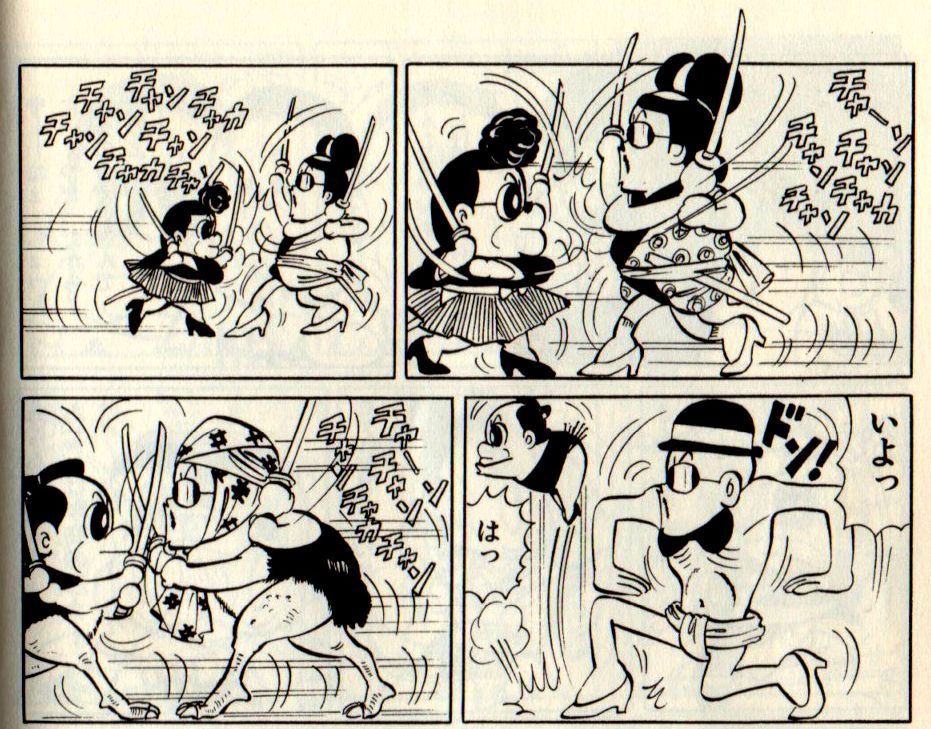 From Volume 4, page 40
The two suddenly start sword fight and interfere with Sōji's study. The bizarre phenomenon of stretching limbs is also a daily occurrence in this manga.





---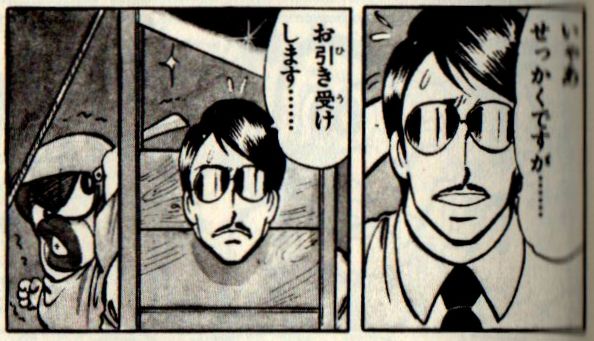 From Volume 4, page 57
Toshi is forced to accept the matchmaking by Kindō-san. The American cartoon-like gag sense is amazing.



---

From Volume 4, page 151
The scene, where the two act silly and make Kaori angry, is classic.


---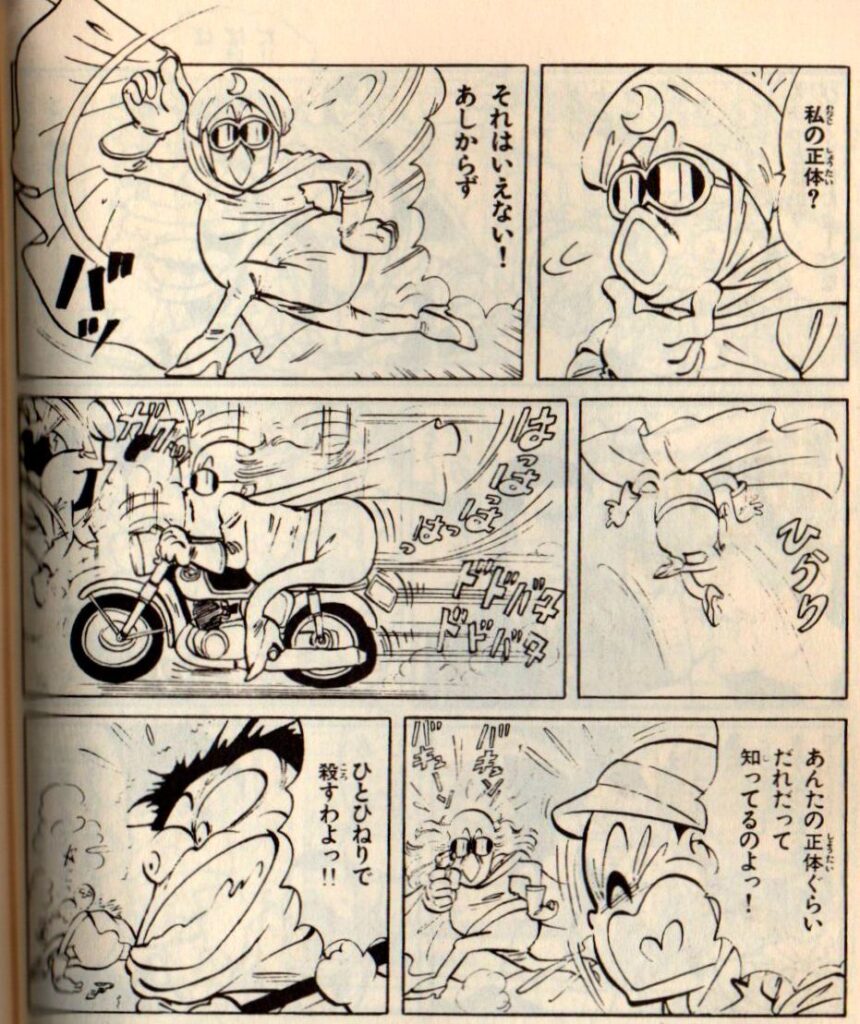 From Volume 5, page 68
Toshi dresses as a Moonlight mask and makes Kindō-san angry. The diamond-shaped mouth and the pattern of changing to a middle-aged body shape influenced the subsequent gag manga.









---

From Volume 5, page 116
Toshi's reaction to Kindō-san's line, "Jōdan(means Joke) and Dan Moroboshi (a man who transforms into Ultraseven) should only be Ultraseven!"

---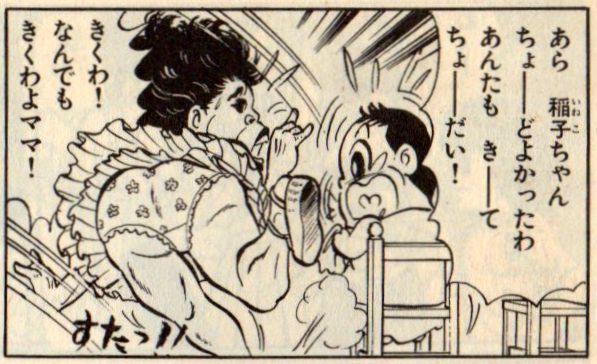 From Volume 5, page 154
Mammoth Inako is a friend of Kindō-san and is gay. She wears a super miniskirt, so she appears with her panty fully open.



---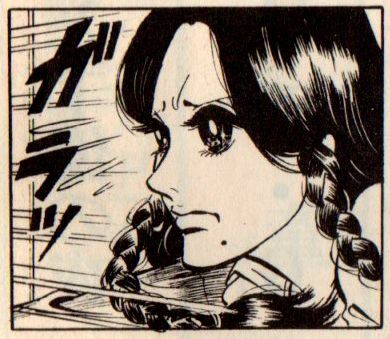 From Volume 5, page 203
Teacher Ayako is going to stop the runaway Teacher Kuma. The drawing power that transcends the gag manga is incredible.



---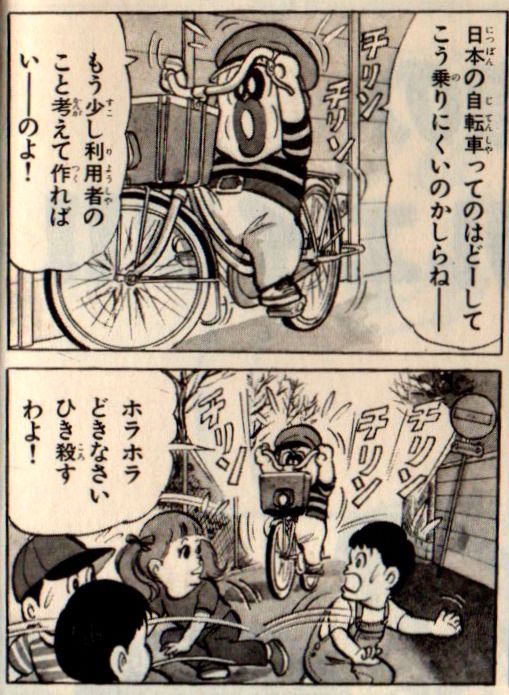 From Volume 6, page 6
It will be the first time for a character with such a figure to have a realistic depiction of riding a bicycle. After this, Kindō-san, who was laughed at, chases the children by bicycle.







---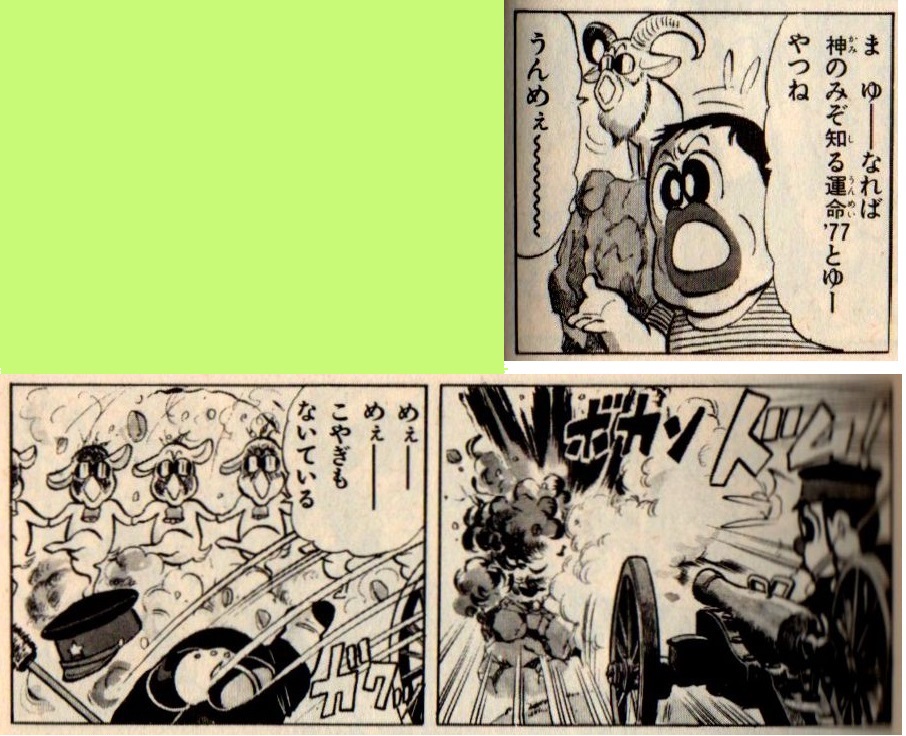 From Volume 6, pages 26 and 27
A new pattern which Kindō-san attacks Toshi's joke and Toshi further plays the fool.






---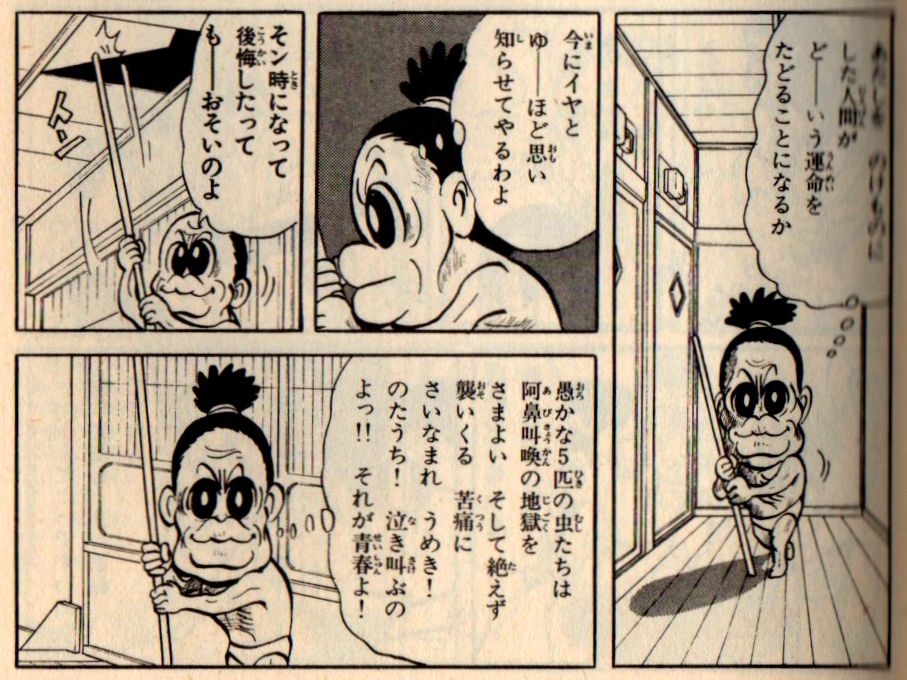 From Volume 6, page 49
A revenge drama in which Kindō-san, who has diarrhea and becomes like pickled radish, tries to make Toshi and others take laxatives. Kindō-san's monsterization begins.




---

From Volume 6, page 57
The two who start a skit whose theme is the grandfather's word "Hōka" meaning "I see" triggered by the word "Hōka" meaning arson.

---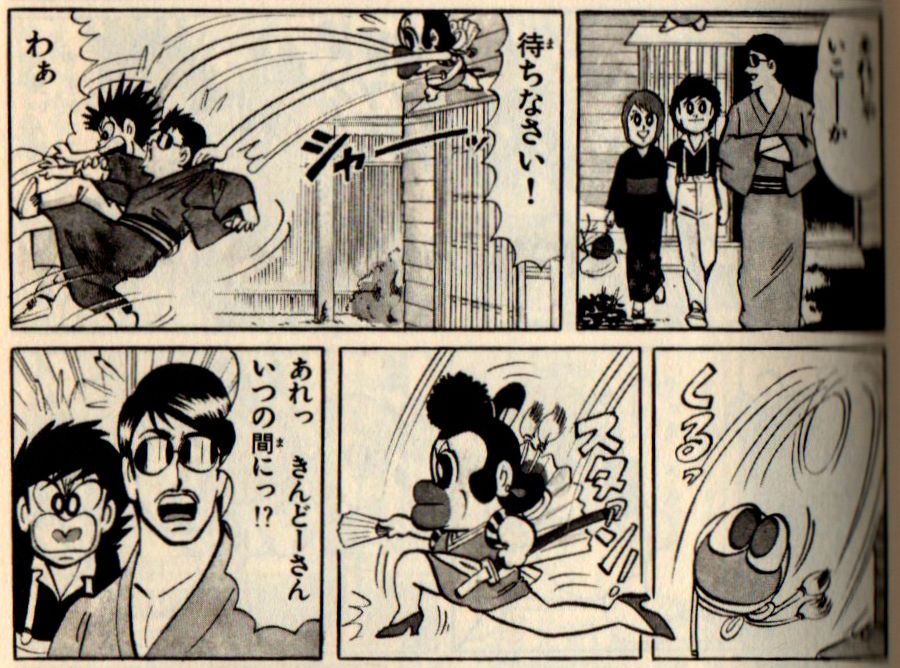 From Volume 6, page 93
From around this time, the number of patterns in which Kindō-san's legs grow has increased. It's creepy, but it's funny after all.





---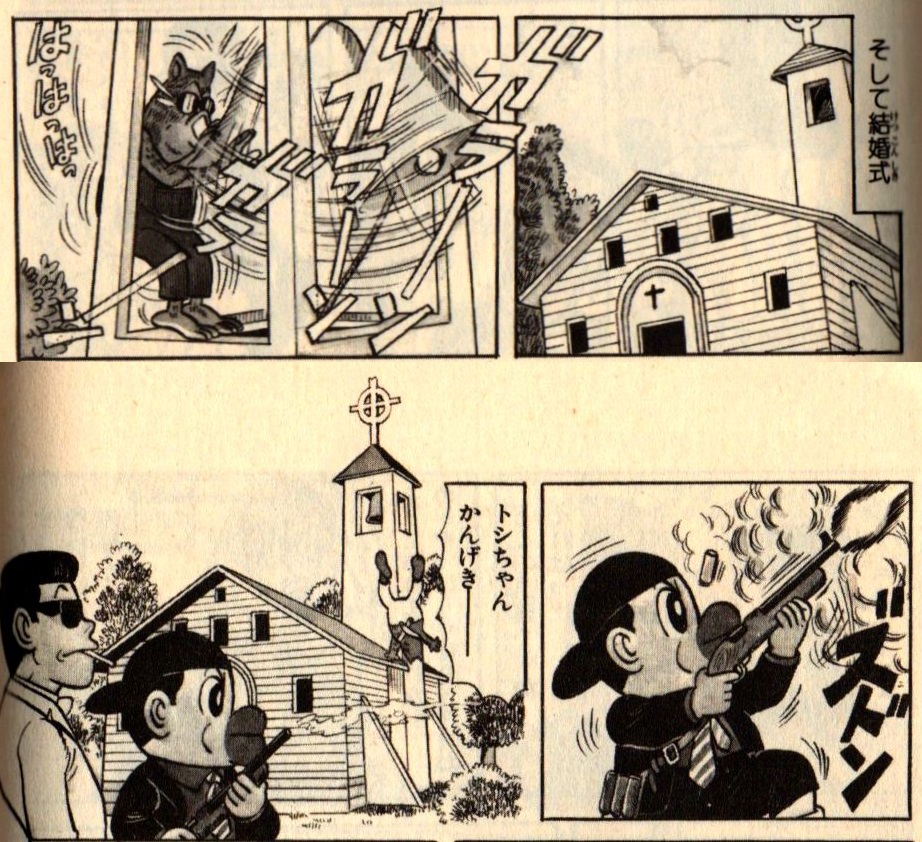 From Volume 8, pages 155 and 156
Toshi, who plays a fool while shedding tears, is shot by Kindo-san and crashes while saying "Toshi-chan, impressing." This is the ultimate gag scene.






---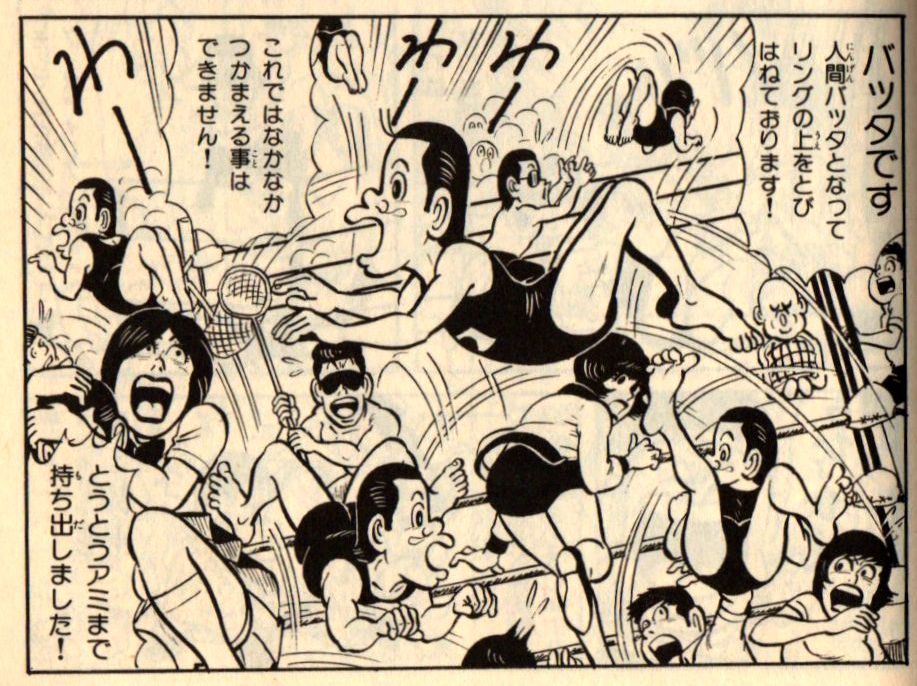 From Volume 8, page 191
As Umanosuke Maeda starred more often, he gradually became superhuman. This time he himself dislocates his legs and flies around as a human grasshopper.



---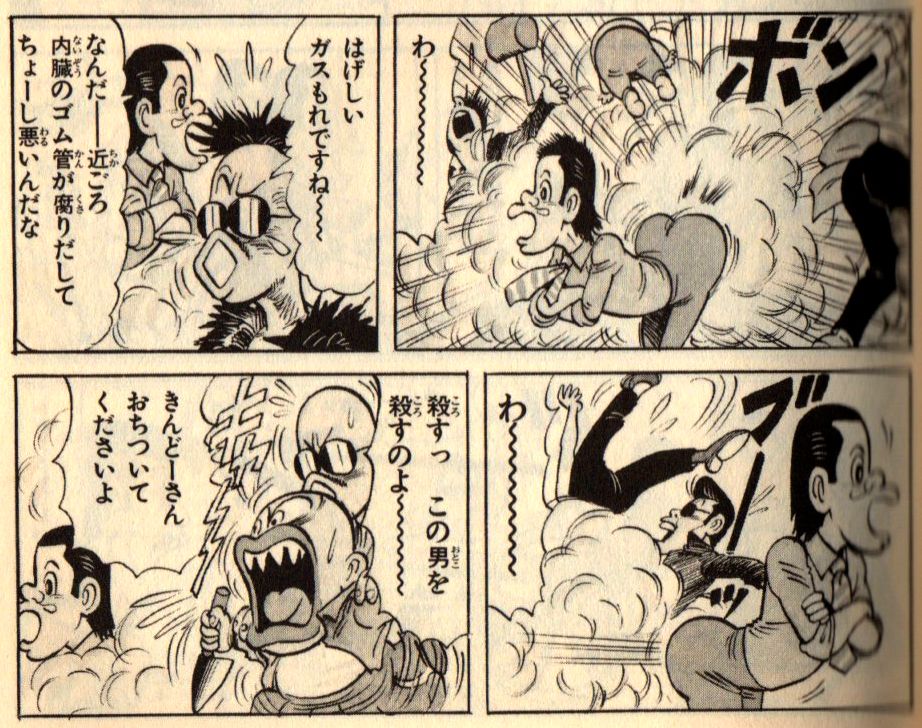 From Volume 9, page 31
An incoherent story about Kindō-san shooting couples in the park with the cannon that uses the gas pressure of Umanosuke's fart.





---

From Volume 9, page 66
Toshi is suddenly kissed by Rumitan (real name: Rumiko Saitō). Since then, Toshi's serious face has almost disappeared.

---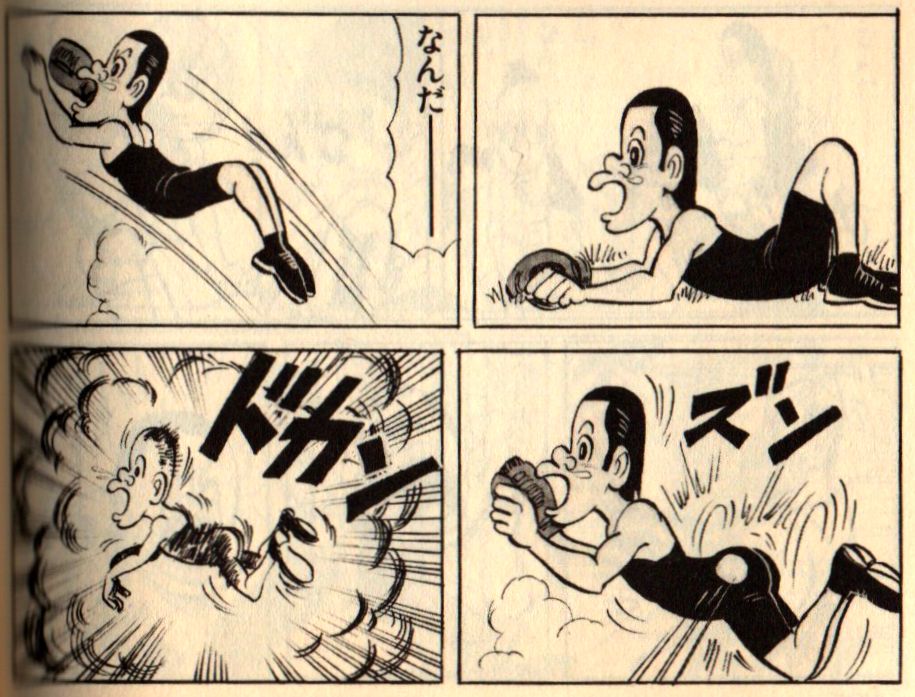 From Volume 9, page 126
A big explosion occurs at Umanosuke's human grasshopper and fart. Around this time, Umanosuke became the main character of the gag.




---

From Volume 9, page 198
Umanosuke who ran for the election. I laughed at his promise to distribute Yakult to all households free of charge. In the end, he loses with one vote.

■The charm of the strongest minor character "Atsuko Nakajima"
Speaking of "Macaroni Hōrensō," Atsuko Nakajima cannot be excluded. She is the daughter of a gang leader, and although she is beautiful, she has a bad personality. She tries to get Sōji by any means, but all her plots are thwarted by Kindō-san and Toshi. So to speak, it is in the opposite position to Sōji's lover Hiromi Masuda, but she is a strangely real and more attractive than Hiromi. Wasn't there a girl like her in your high school? The existence of Atsuko Nakajima must have made the manga "Macaroni~" not only a gag but also a slightly sweet and sour youth ensemble drama. The battle for getting Sōji with her precocious younger sister Asami is also interesting.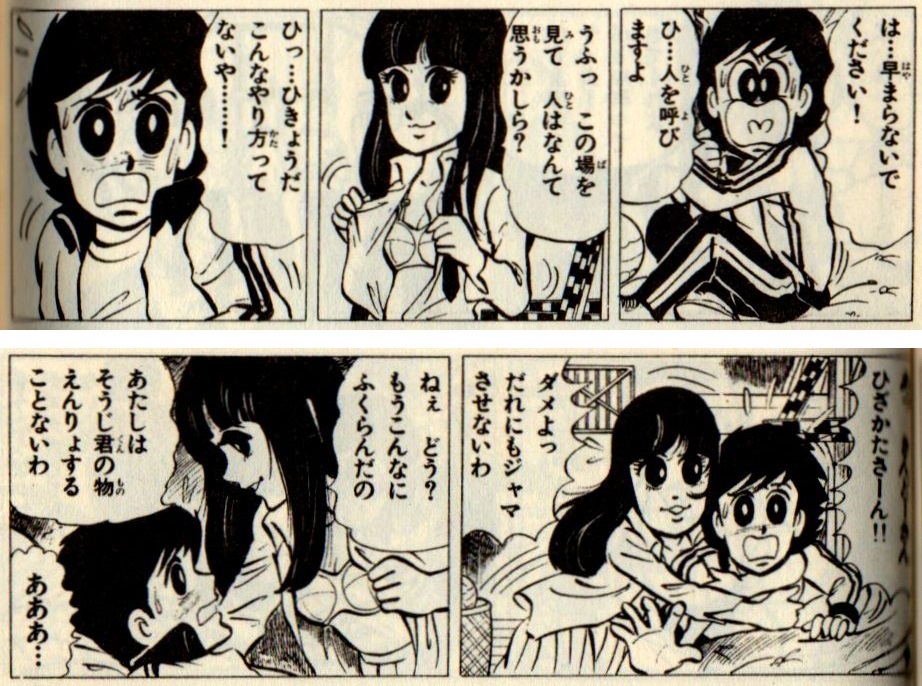 From Volume 3, pages 198 and 199
Atsuko attacks Sōji at the gymnasium. Sōji was rescued by Kindō-san and Toshi who suddenly appeared, but this was a rescue play far from serious content.



---

From Volume 4, page 28
Atsuko forcibly pushes Sōji into the car and confines him at home. It was thought that Soji would be helped by Kindō-san and Toshi who had rushed in, but he fell into the hands of her sister Asami.

---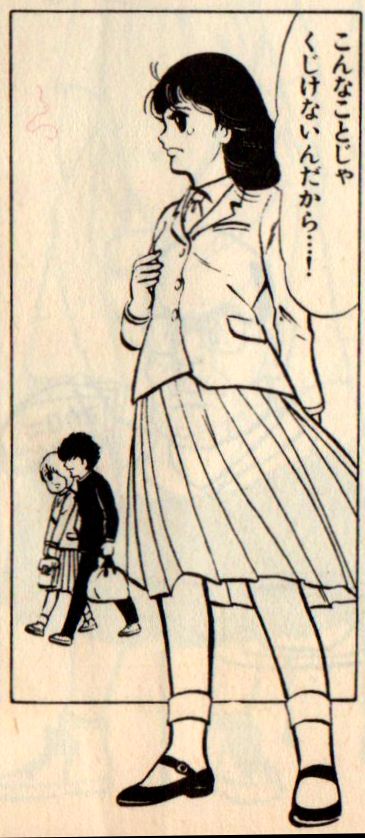 From Volume 5, page 19
Atsuko orders the Teddy Boy Gang Group to break the relationship between Sōji and Hiromi. However, she is betrayed by Aniki Date and is slapped by him and sheds tears.










---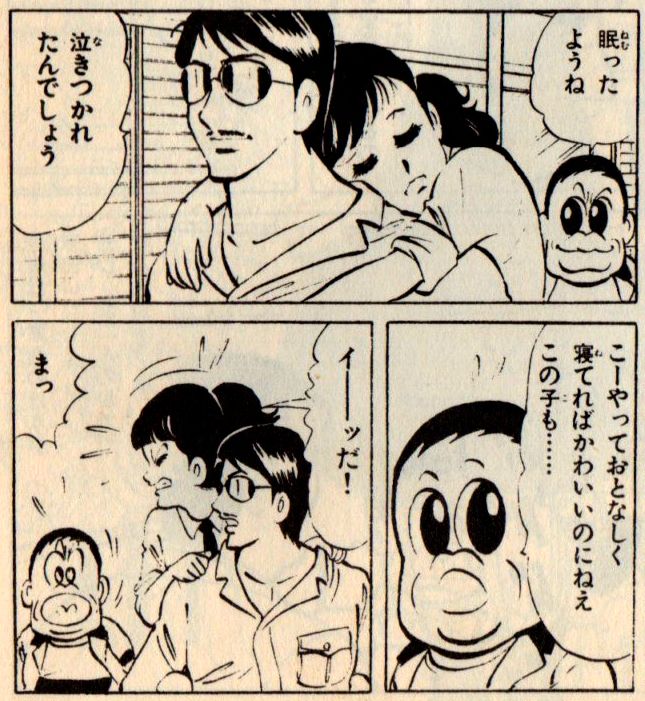 From Volume 5, page 79
Atsuko's father asked the two to bring her back home, and they boarded a disco where the bad guys hang out. They annihilated the bad guys with Toshi's death ray and successfully regained Atsuko.






---
From Volume 5, page 146
Atsuko writhes with a photo of Sōji. Her actions are seen by her sister Asami, and the two get into a fight. However, Asami, who threatened Atsuko by declaring to inform their father about Atsuko's cigarette, became winner.







---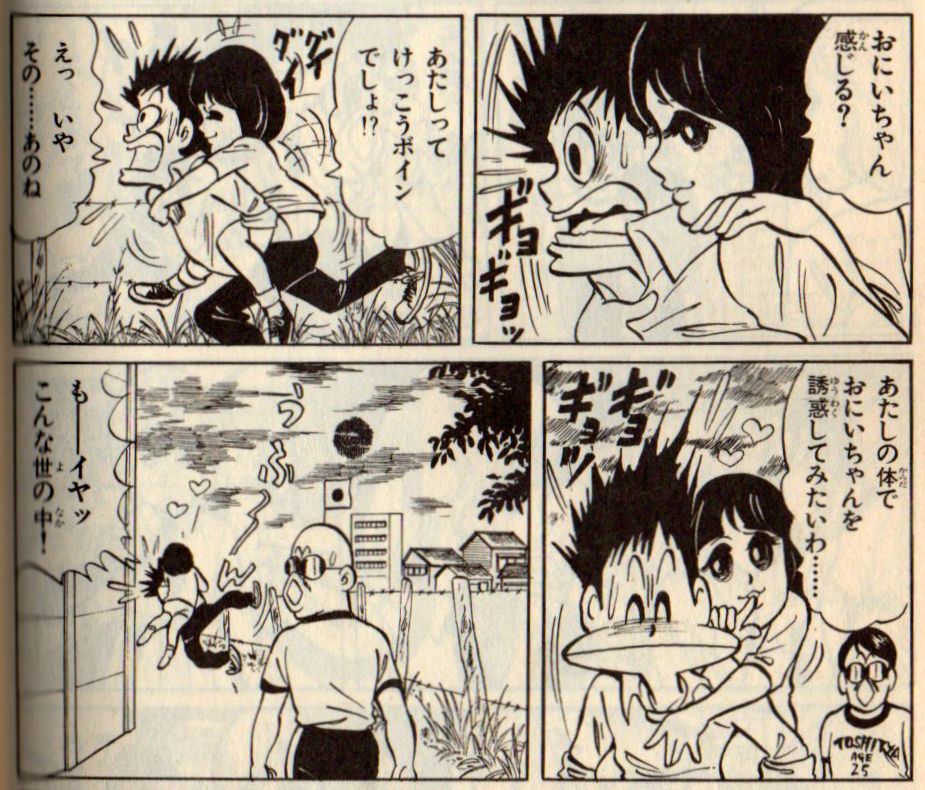 From Volume 5, page 156
Asami tries to seduce Sōji with her body even though she is an elementary school student. From then on, Sōji is targeted by Nakajima sisters.






---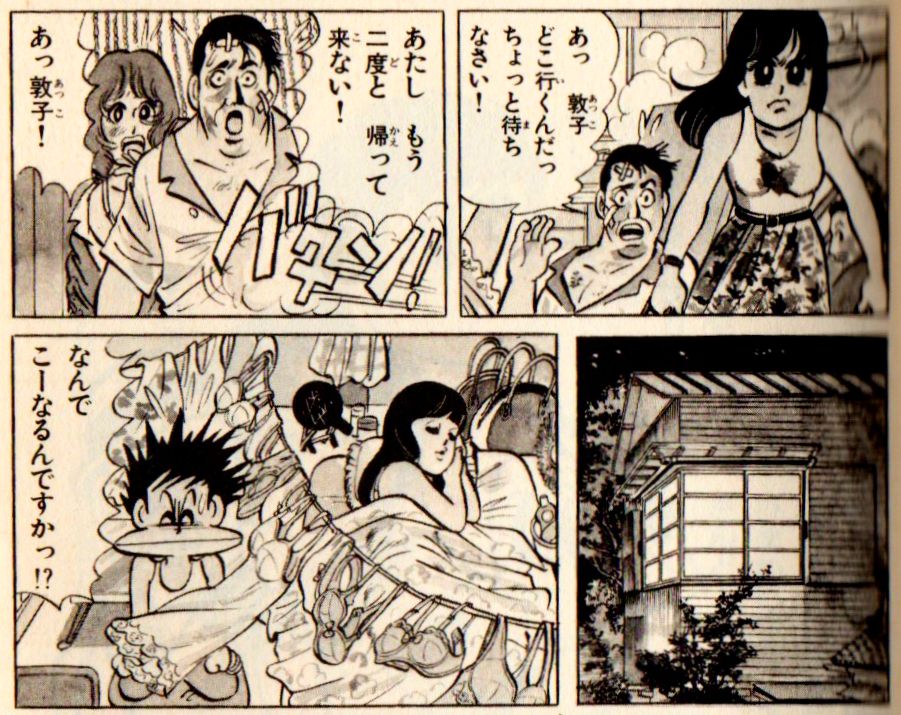 From Volume 6, page 37
Kindō-san and Toshi come to deliver beer to the Nakajima family at a part-time job at a liquor store. Atsuko jumps out of her house due to the rampage of the two and stays in Sōji's home.




---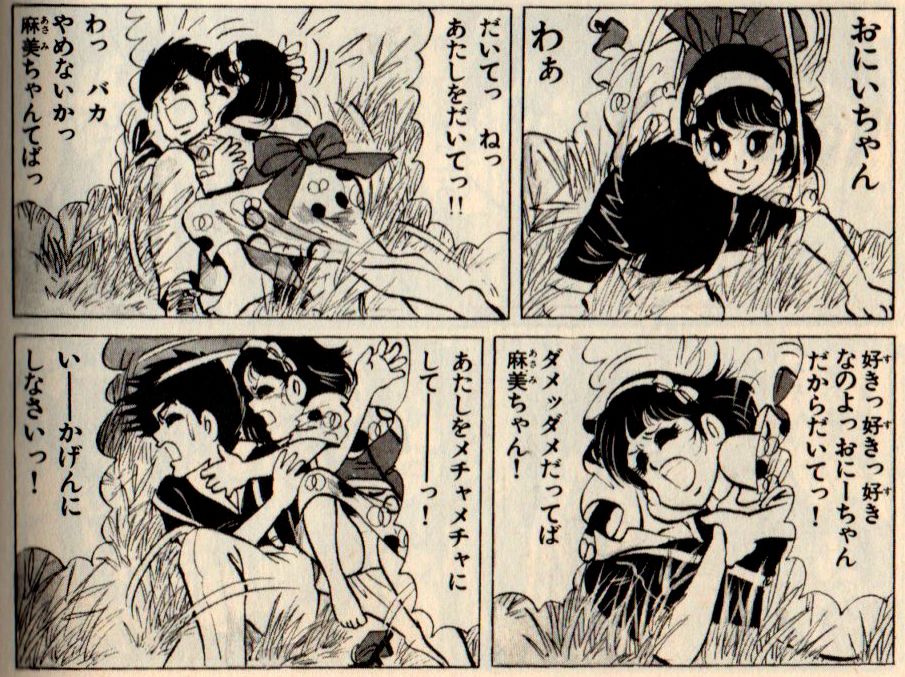 From Volume 6, page 102
Asami attacks Sōji in the field on the night of the summer festival. Because Asami lied that she was raped by Sōji, Hiromi misunderstood and ran away crying.




---

From Volume 6, page 133
Asami, who was cornered by Sōji, apologized to him for crying. That night, Asami shed tears as to why she wasn't born earlier.

---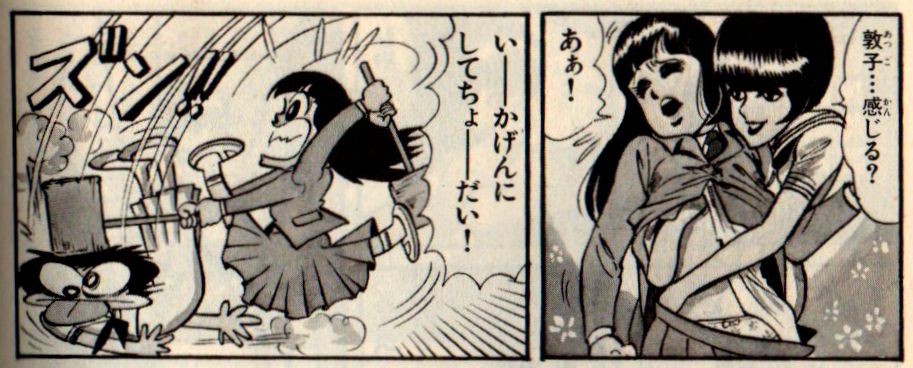 From Volume 6, page 166
Atsuko is teased by Girl A, a leader of a group of delinquent girls.


---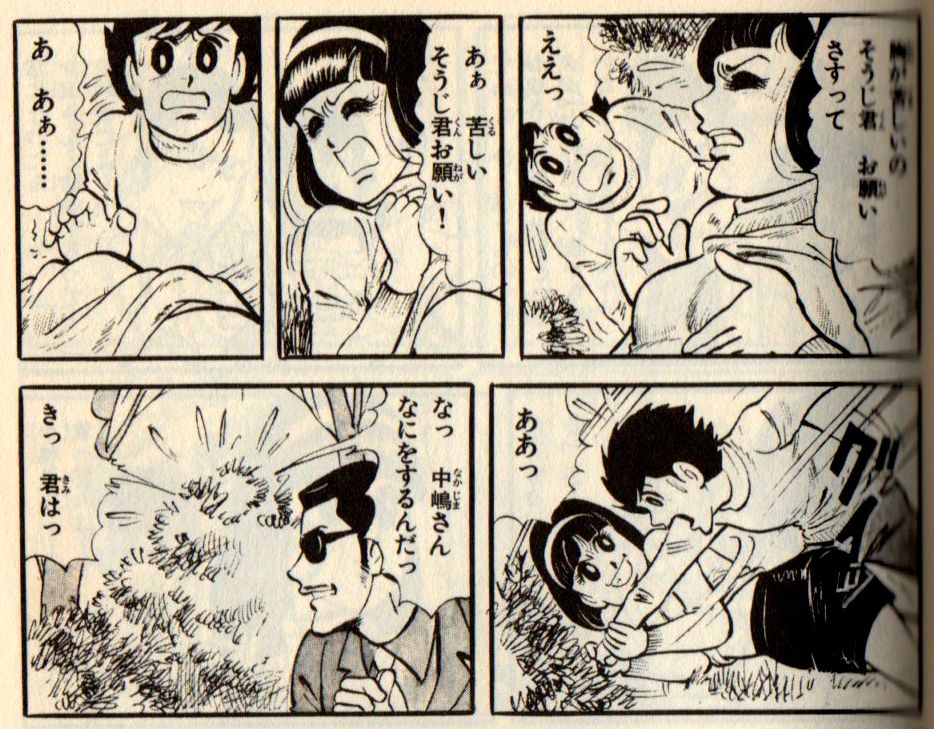 From Volume 7, page 123
Atsuko's last attack. Atsuko, who skillfully invited Sōji to a date, sayed suddenly that her chest was painful. Pulled by Atsuko, Sōji rided on her. Gangster Yasuda who was nearby, urged Sōji to sign a marriage pledge. However, Atsuko's bad plans were once again thwarted by the activities of Kindō-san, Toshi, and Umanosuke.

---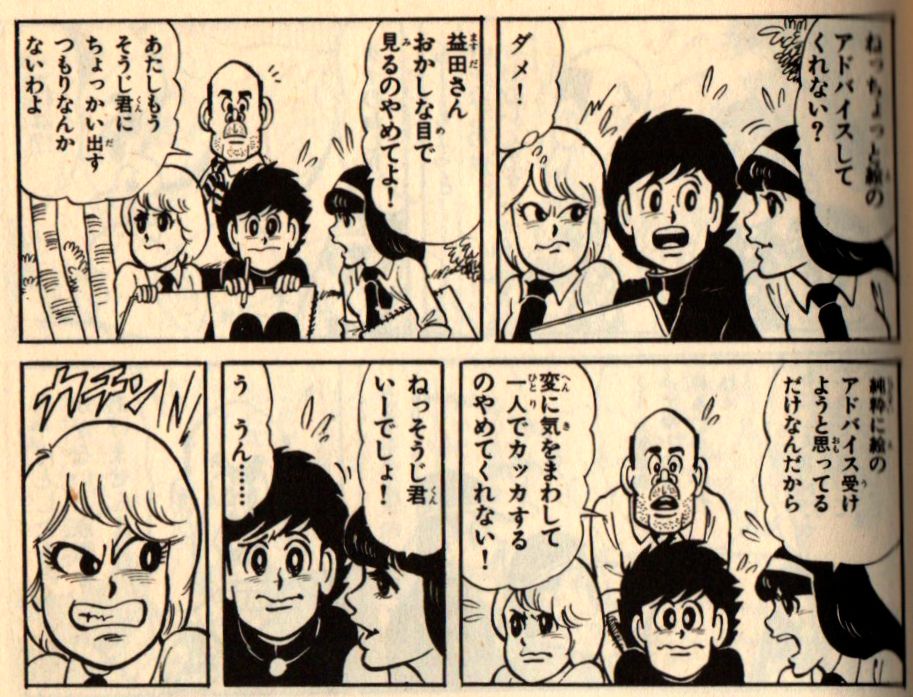 From Volume 8, page 175
Atsuko's last performance in "Macaroni Hōrensō." She approaches Sōji at the time of sketching and irritates Hiromi.





---
My favorite robot toys; Episode 7 "Robin No.6"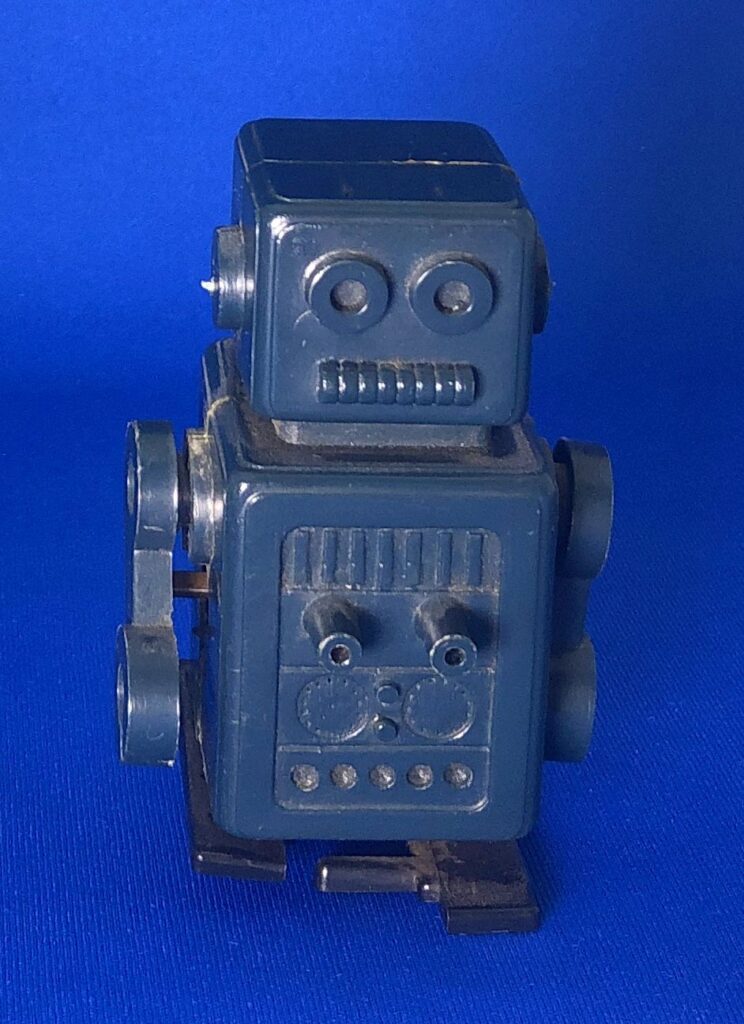 This time, I will introduce the "Robin No. 6" from the robot plastic model "Space Robot Series" of Bullmark's later years. I remember its release from 1974 to 1975. It uses screws and does not use adhesive. Its price was 300 yen, and I had the impression that it was expensive for children. The so-called Aoshima style is used for its bipedal walking with a mainspring.
It was an era when Midori stopped producing robots and there were only large robot plastic models such as Bandai's "Brave Raideen" as walking robot plastic models. As a result, the launch of small robots was very exciting for me. I bought "Robin No. 2" and "Robin No. 6," and the one, which its outer parts are still "No. 6" but its drive device is transplanted on the inside from "No. 2," is the only plastic model that was purchased as a child and has survived to today.
I sometimes see this series at auctions, but I don't see "No. 6" very often, probably because it sold best because of its most robot-like appearance. The one I have is dark blue, but I have also confirmed the red molding color. Also, it seems that they were released as plastic toys instead of plastic models, and I got "No. 4" and "No. 5" of them later. In addition to these, as the "Robo-robo series," there is also the luxurious version of Toys in which colored individuals are stored in transparent plastic cases.


Celebration! "Return of Ultraman" 50th Anniversary. 
The project to make soft vinyl monster dolls walk on batteries
(No.11 ancient monster "Kingsaurs III")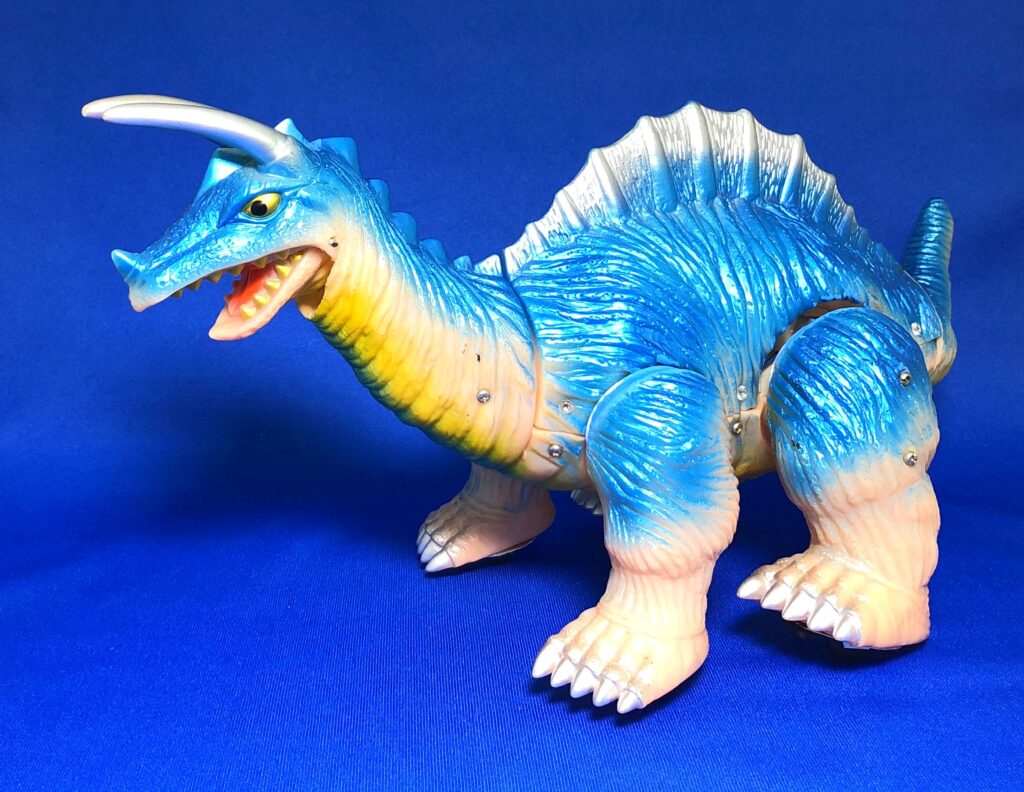 This time, I would like to introduce "King Zaurus III", which appeared in the fourth episode. The material is a soft vinyl doll from the Kaijūkyō brand. It is the first four-legged monster in this project.
All four feet move, but the rotating rollers on the soles of the feet have reverse rotation prevention devices only on the hind feet, and the front feet are not related to walking. There was a plastic model of Marusan who made the quadrupedal monster "Todola" move like a baby's crawling by operating only the front legs, but this "King Zaurus III" is the opposite and walks only with the hind legs. However, the difference from "Todora" is that the legs (forefoot) that do not contribute to walking are also moved with a dummy. The "Leogon" of this project has a quadrupedal walking system like the insect plastic models of Imai and Bandai, so I would like to introduce it at another time.
"King Zaurus III" was a monster that was made relatively early, and its original power source was AA batteries. For this reason, it does not have the function of crying or emitting light, but it can open and close the mouth. However, since the neck is long and slightly curved, it was necessary to devise such as using a pulley to open and close the mouth well.